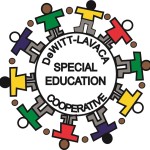 Exciting children's minds since 1978!
The purpose of the DLSEC is to provide a continuum of special education services to students from ages three to twenty-one. These are some services that can be provided if the student meets eligibility: adaptive P.E., assistive technology, behavior consultant services, counseling, nursing services, occupational therapy, orientation and mobility, physical therapy, recreational therapy, speech therapy, and vision services. The mission statement for the DLSEC is that we will provide required components for students with disabilities to learn in a way that provides identification, evaluation, and recommendations for these benefits:
learning

collaboration with other agencies

quality in-service and direct instruction to all stakeholders

innovative programming

quality assessments

and delivery of related services
This means that all students are provided instruction in the least restrictive environment while obtaining educational benefit.
If you have a child who might be delayed in language, development, gross or fine motor skills, or is having trouble in school with academics or behaviors, please contact your child's school district in order to request a special education referral. You may also contact our office for further assistance at (361) 293-2854.
402 Hubbard Street; PO Box 737
Yoakum, Texas 77995
Phone: (361) 293-2854
Fax: (361) 293-6826
RISE and GOALS PROGRAMS PHONE: (361) 293-3076