Notice of Destruction of Records - Posted September 15, 2022
The DeWitt-Lavaca Special Education Cooperative will soon dispose of the confidential special education records of students who have not received special education assessment, instruction, or related services since June 2016. These special education records will be destroyed after November 4, 2022, unless a written request to the contrary is received. Special education records could be of future importance for purposes of applying for Social Security benefits or other purposes. Requests to prevent the destruction of certain records should be forwarded in writing by November 4, 2022, to Jason Appelt, Executive Director, DeWitt-Lavaca Special Education Cooperative, PO Box 737, Yoakum, Texas 77995. These records may include students from Ezzell ISD, Hallettsville ISD, Moulton ISD, Nordheim ISD, Shiner ISD, Sweet Home ISD, Vysehrad ISD, Yoakum ISD, and Yorktown ISD.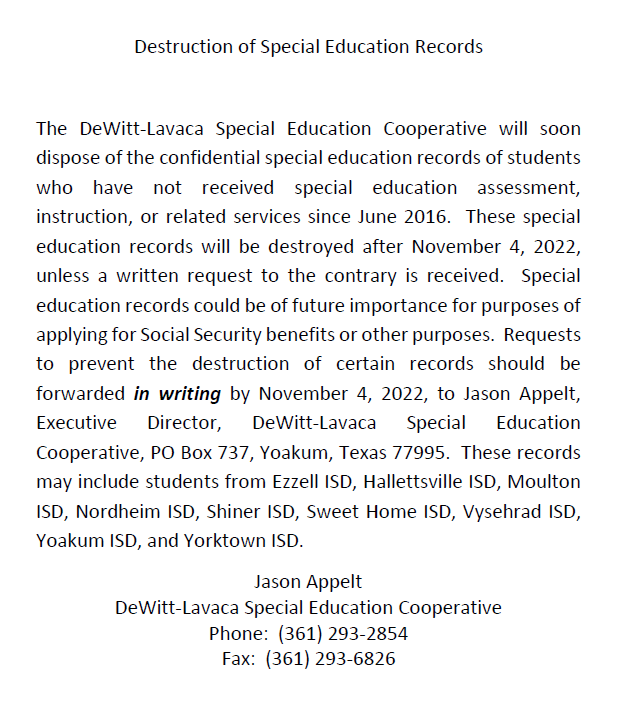 The Special Education Information Center (SPEDTex) provides resources and interactive features for increasing family awareness of disabilities and special education processes, with the goal of improving partnerships between schools and families.

Contact information:
Phone: 1-855-773-3839
Send Email to SPEDTex
Live Chat: SPEDTex
2022-2023 School Calendar
DLSEC students in the RISE and GOALS programs follow the Yoakum ISD school calendar. The calendar may be accessed here.